Broken Spring Repair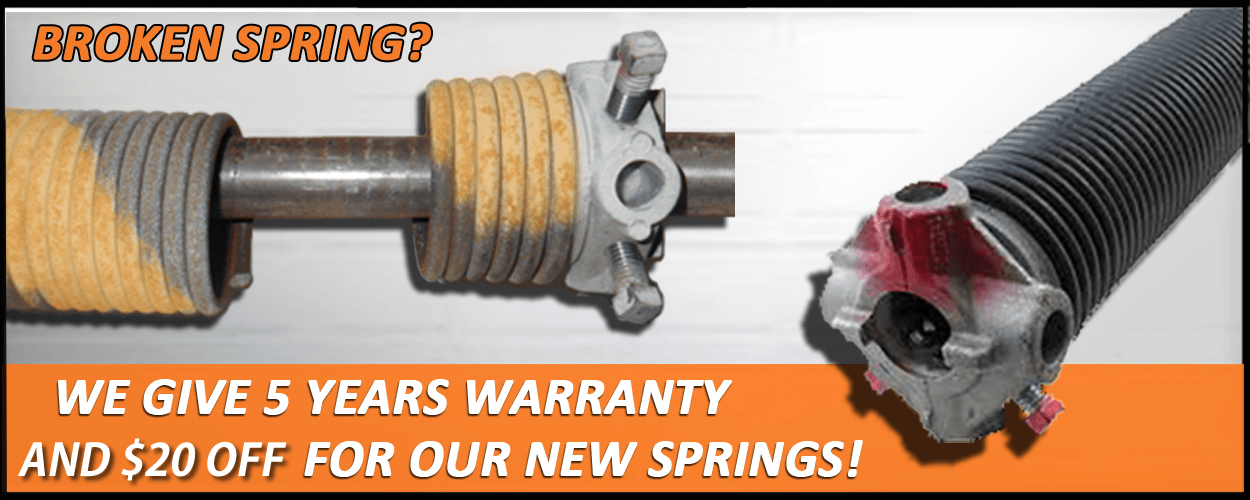 Broken Spring Replacement – Without a doubt, your garage door is one of the largest moving parts of your home. It has many different components that work together to get it to open and close. A vital part of the garage door are the springs. Some may only have one and some have two springs. The springs on your garage door are responsible for counterbalancing the weight of the garage door. This makes it easier for the opener to do its job. When the springs break or loose tension, it makes it very hard for the garage door opener to lift the door. An average garage door weighs about 100 pounds and only gets heavier.
There are two different kinds of springs on your garage door. You either have torsion springs or extension springs. The difference is very obvious, Torsion springs are located right above that garage door opening as extension springs are located on the sides of the garage door. Although each kind of spring does the same thing, torsion springs are much safer and becoming more popular. Torsion springs work together as they wind and unwind to get the garage door open. Also due to the location and how the springs are installed makes them much safer. Extension springs work independently of each other causing uneven wear and tear. Also these springs as the name suggests extend and contract as the door opens and closes. When this happens your springs are at high risk of flying off. Due to the immense pressure the springs are under this can cause serious injury or damage to your garage and everything inside.
If you still have extension springs on your garage door and would like to switch them over to the torsion spring system, our technicians here at Iowa City Garage Door Repair can definitely help you out with that. Replacing a broken spring is very dangerous and should only be done by a professional. Iowa City Garage Door Repair technicians carry a large variety of different size springs so that they can take care of the issue right away. If you have any questions or would like to schedule an appointment for a highly qualified technician to come to your home and fix your broken spring, please give us a call here at Iowa Garage Door repair. We are always looking forward to working with you.
Call us anytime to schedule your garage door spring replacement.